While there are dozens of taco stands, carts and restaurants in downtown Sayulita, south of the bridge that leads into town, there are only a few north of the bridge and the seasonal river it spans. Those of us who live on the north side have long felt privileged in that the first taco joint on the north side (there are a few more now) that caters to both locals and tourists just happened to be Tacos on the Street, the first cousin of a restaurant in La Cruz de Huanacatle, known by the same name (and run by the same family), that many people consider to be one of the best taco restaurants in all of western Mexico.
That is a large reputation to uphold, but Tacos on the Street, run by Sandrita and Jorge, their daughter Oceana (well, she provides entertainment anyway) and their staff, does offer some fine taco fare: tenderloin beef only, excellent chicken, great grilled vegetables, steamed fish once a week (Thursdays, last we heard), all available in various combinations or in quesadilla form, in flour or corn tortillas, for around 12-20 pesos a hit.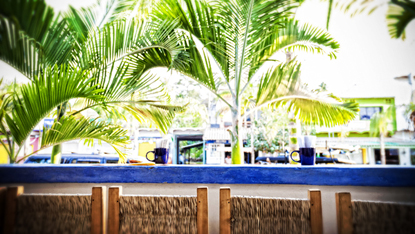 You start with a simple tray with sliced radishes, grilled jalapenos, salt, lime and serious hot sauce. Order Jamaica water (made from hibiscus flowers, for those who don't know) to drink, or get your beer across the street or wine around the corner. The tacos come soon. They are great. If you get bored waiting the five minutes or so it might take to get them—longer if it's busy—head into the Galeria Tanana next door, and check out some enchanting Huichol art. The restaurant and gallery share a patio, entrances, and general good vibes.
Sandrita is also a fine baker, and the dessert options include brownies, key lime pie, and flan. She also runs a breakfast bakery these days, although with summer and the low season coming on, the bakery will be closed for a few months. But the restaurant remains open year-round, with shorter hours and fewer days in the rainiest of the rainy months; nevertheless, they are there most nights. I remember a night last year, in the rainy season, when I was working on something and suddenly realized I hadn't eaten all day.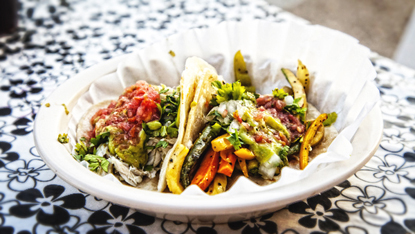 Just at that moment a huge storm hit, as they do on summer evenings around here. I had no food in the house. I jumped in the car and dashed to Tacos on the Street. They were cooking away, sideways rain whipping into the kitchen, power intermittently flicking on and off, the whole scene verging on disaster, verging on farce–and I got four great tacos to go, and they remembered to put all the side dishes in the bag. I couldn't eat them there—even the part of the restaurant that is under a roof was getting seriously soaked by this particular sideways blowing storm—so I took them home and ate by lantern light, my own power having gone away. In any case, they saved my day, and soon enough, the lights came on and saved my night.
Storm or no, this place is worth a trip north across the bridge if you're downtown and want to walk three blocks from the plaza for something special.