If you see the old-fashioned movie marquee on the southwest corner of the plaza in Sayulita, and wander over to check on the schedule for the movie called "Esto Es Mexico," you'll quickly discover—that this ain't no theater. No movie theater anyway…but it is a kind of theater—a studio and theater of color and whimsy and original Mexican art, created by the owners of the store. Esto Es Mexico. The creators of this magical, riotously colorful little place are Belen Sandovan and Cesar Godoy, from Guadalajara. They moved here 8 years ago, have kids and friends and a life here, and they have the shop, where the work is made and displayed and sold.
The marquee was designed and built by Cesar Godoy, and it is a great way to draw people's attention and bring them into the store, no small feat in a town overflowing with great stores selling Mexican arts and crafts ranging from the deeply traditional to the highly original.
This store would fall into the latter, highly original category. They base the work on traditional elements of Mexican culture, and then transform it. The masked, costumed and amusingly theatrical Mexican wrestlers known as Luchadores, and The Day of the Dead, El Dia de Los Muertos, are the main themes or inspirations here. If you happened to be in town last week, for the Day of the Dead fiesta in the plaza, you couldn't help but notice and admire the enormous altar devoted to Mexico's own legendary 20th century artists, Frida Kahlo and Diego Rivera, installed in the plaza's central kiosk. That wonderful piece was created by Belen and Cesar, and was a standout among a dozen or more magical and alluring altars.
90 per cent of the work on sale in the shop is original, created by the two of them. Belen minds the store, and while minding the store, makes painting after painting, or painted skulls one after another. Her store is her studio.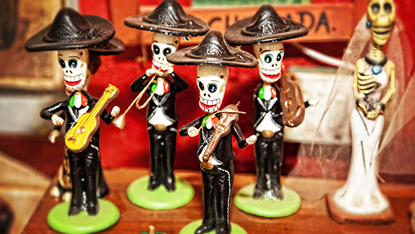 In Mexico the human skull now serves as one of the primary media for works of art. Those happy grinning Day of the Dead skulls are everywhere these days, and in Sayulita Belen is responsible for many of them. And a lot of other brightly-colored, often intricately-painted artworks in several forms and styles. She has made and/or painted almost every brightly painted object you seen in these photos—except for a few things including the antique-looking wooden paintings, which are done by Cesar based on old Mexican pictures he buys up in Queretero, and then re-imagines on these wooden "canvases." They have a quality at once coolly modern, visibly aged, and mysteriously compelling—the images from 20th century Mexican culture are singular in their psychological allure.
There are small lamps shaped like 1950s sci-fi TV sets, only inside them, fashioned like the small Day of the Dad boxes you see in many stores, are light bulbs tucked into Catholic imagery. Worshipful or mocking? You decide. They sell bags made by women in prison, the money going to the prisoners' families. They sell luchadores in all kinds of shapes, sizes, and styles. Tradional Mexican piggy banks. Life size Day of the Dead statuary. You can get all things Luchadore and/or Day of the Dead here, take it home and put it somewhere in plain sight, to remind you of the magical place that is Sayulita, Mexico. You can also order a customized, made to order painting! Esto Es Mexico! Call 329 291 3298 for days and hours.