Along with surfing, paddleboarding, partying, sailing, hiking, horseback riding, beachcombing, sunbathing, dining and generally having way too much vacation fun, people come to Sayulita to learn and study—Spanish!! A foreign language! Yes, you can show up in town and if you want to learn a new language, or at least get started or farther along in your studies, there are people here to teach you this wonderful language, the language of Gabriel Garcia Marquez, Pablo Neruda, and Garcia Lorca, among other literary noteworthies. Amazing and inspiring writers all, and if you learn Spanish you can read them in the original, and you can also learn how to ask for the check at the restaurant, and also where is the bathroom. This is important stuff.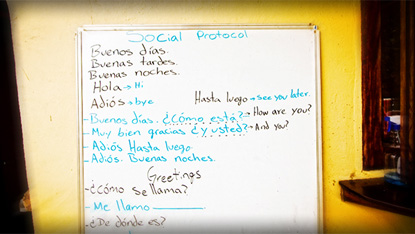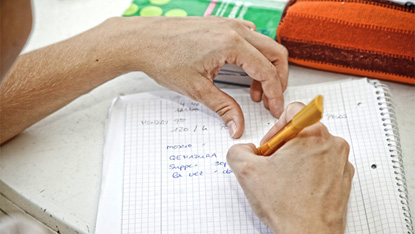 One of Sayulita's most experienced and most entertaining Spanish teachers is Nancy Avila, who runs the Sayulita Spanish School and has been teaching Spanish in Sayulita for the past 8 years. Nancy was educated in the United States, studying English and education in San Diego and North Carolina. She is eloquent and fluent in both Spanish and English. She is also loads of fun as a teacher, always willing to do what it takes to get her students engaged.
If the classroom makes people nervous or restless, well, it's out into the neighborhood with them, where they can interact with local people in stores, restaurants, and on the street. As Nancy describes it, "We just go out into town and do stuff." It's not total immersion, which can be hard to come by in Sayulita with its countless English-speaking Mexicans, but it is close. Couple this approach with the good old-fashioned methods espoused by the Spanish language books Nancy prefers to use, written years ago by Maria Maqueo and Julia Andujar, and you have the full package, containing both streetwise conversational technique and correct grammar.
Nancy and her fellow teachers in the Sayulita Spanish School, including Paulina Lua, Erika Allamando, and Omar Munoz, offer classes ranging from private, one-on-one lessons for $15 per hour to lessons for three or more for $8 an hour. Classes are limited to a maximum of 8 people. Students can study from 2 hours a week to 3 hours a day, depending on their own needs and desires.
As Nancy simply puts it, "If you are coming to Mexico, you'll be better off speaking Spanish."
You can reach Nancy Avila by email at sayulitaspanishschool@gmail.com, or call 322-158-5043 when you get to town.