Like Sayulita's Friday Mercado del Pueblo, La Cruz de Huanacataxtle's Sunday market offers visitors and locals a like a chance to shop and buy a fabulous array of artesanal goods, ranging from organic foodstuffs of all kinds through handmade clothing, artworks, dishes, soaps, jewelry, beehives, dogfood, and everything else under the sun that can be made locally. The emphasis on quality control through authenticity—that the sellers are the producers—assures that buyers are getting the real thing.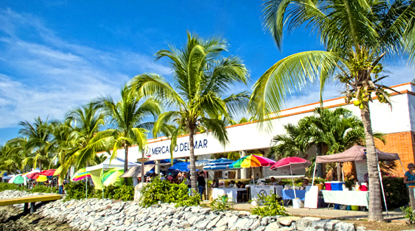 The high-season-only market was founded four years ago, with its original location being the downtown La Cruz plaza. It quickly outgrew the plaza and moved to its current location, sprawled alongside the Marina Riviera Nayarit by La Cruz de Huanacaxtle's own Mercado del Mar. There are currently over 170 vendors, with some revolving in on a monthly basis, and the waiting list just keeps growing. Artesans are coming from all over Jalisco and Nayarit, and even from as far away as Tepic, San Sebastian, Ajijic, and Guadalajara, to offer their goods.
The location is wonderful, with the mountains ringing Bahia Banderas and the bay itself serving as backdrop, and the boats and bustle of the marina and the seafood market in the foreground. The hundreds of colorful vendor stalls with their myriad products add more layers of color and activity. Foodies will have a field day, faced with this cornucopia of organic salsas, fruits and vegetables, eggs, handmade breads, yogurts, honey, and organic regional coffees to take home; for dining on the spot, you can choose from paella, tamales, empanadas, pizzas, quiches, waffles, sandwiches of all sorts, fresh juices, and a range of other savory items. Arts and crafts abound, as do jewelry, handmade dishware, baskets, clothing, leather bags, and handmade soaps, shampoos, and coconut oil products.
There is live music every week, yoga for adults, and activities for kids. The "profit" the market managers make every week goes to pay the talent, with some being set aside to construct a kids' playground up in the hills behind town, utilizing recycled materials. This is a wonderful community event that allows everyone, locals and visitors alike, to discover what wonderful handmade and/or organic foods, arts, and crafts are being created every day here in Nayarit and Jalisco. This market is a little bigger than Sayulita's, so if you happen to be in town over a weekend, we recommend trying the Sayulita market on a Friday, then head down to La Cruz two days later to see what else is out there. Right now, between these two markets, you could get some serious Christmas shopping done.
To get to this market from Sayulita, take Highway 200 back towards Puerto Vallarta, then when you get to the bottom of the hill turn right towards Punta Mita. When you start to get into La Cruz get into the lateral on the right and follow the directions to the Mercado del Mar. A slightly longer but less trafficky alternate route takes you on the back road to Punta Mita, and from there east to La Cruz de Huanacaxtle. Either way, you'll end up at a great Sunday mercado. You can find out a little more about the market at mercadohuanacaxtle.com.