One of the high points of the recent Festival Sayulita was the Master Tasting, which, contrary to the slightly studious sound of the name, was really just a great big party under the Don Pedro Palapa up on the bluff overlooking the town, beach, and sea. We all know this Las Brisas palapa to be of the greatest event venues around, and with the Festival by then nearing its end—the last movies were shown later that night—there was a sense of congratulatory celebration in the air.
The damn thing actually happened! Festival Sayulita! Many thanks to Gabbi, Nick, Lina, Sheryl, Storm, Jack, Risa, and the small army of volunteers who made it happen. Who got the venues rolling, got the films started on time, got people into their seats, and got it all done. There was a lot to do, and few if any of the many things that could have gone wrong went wrong. There were very few glitches.
We here at Sayulitabeach.com are especially proud that we signed on early and were able to lend our support as the primary sponsors of the Festival.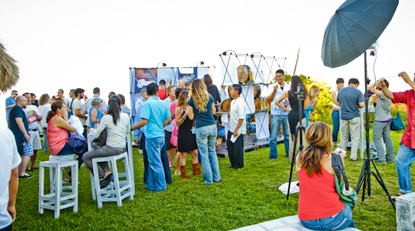 Of course the freeflowing tequila from all the sponsoring companies—El Secreto, El Capricho, Sauza, El Partido, and La Revancha, all of whom were on hand to hand out plenty of samples and talk up their product—did help to create that celebratory air up at the Master Tasting, as did the endless trays of great appetizers flowing out of the kitchen, courtesy of a fine crew of chefs. An open bar for those not into the tequilas also kept things jumping.
There was live music, dance performers of all kinds, and plenty of happy people enjoying themselves as they got ready to watch the last of the movies, showing there at the palapa and also down on the beach and at the two venues in town, Casa de la Cultura and the Ejido Building. Having to run around throughout the weekend, trying to keep up with events, precluded my seeing much in the way of cinema, but from all reports, there were a number of stellar films seen over the course of the three day festival.
The last report on the Festival, following this one, will present the Festival's award winners. Meanwhile, have a look at the photos, and you'll see we all had a wonderful time at the great party that was the Master Tasting.