Friday night, January 17th, the second night of our magical and merry Festival Sayulita featured, along with a lot of great movies on the beach and in various venues around town, a simultaneous food and tequila tasting event. The deal was this: those who signed up got to sit down in an excellent Sayulita restaurant, and, while being fed fine food, taste fine tequila, in a sequence designed to enhance the offered food. This event, called a pairing (pairing distinct dishes with specific tequilas) was designed to enlighten those of us unaware of the charms of tequila not only as a barroom, night time fiesta drink, but as a liquor with subtlety enough to accompany fine food.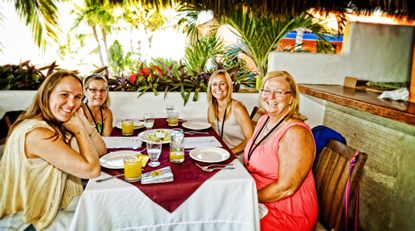 That was the plan here: give people great food, and school them in the kinds of tequila appropriate to accompany that food. The event took place, simultaneously, at five of Sayulita's best restaurants: Don Pedro, Miravino, Calypso, Los Afortunados, and the Sayulita Public House. In each of these dining rooms, the chef whipped up, with major and admirable effort, a multi-course menu; at the same time, a sponsoring tequila company put on the table appropriate vintages, ranging from the youthful blancos, or whites, through the reposadas, or restings, to the anejos, or old, tequilas, each meant to accompany a different food course in the course of the evening.
The tequila maestros from El Secreto, Sauza, Revancha, and Partido patiently explained to us how to drink tequila with food. Slowly, sipping. We listened, each time, as they admonished us not to shoot down those shots of tequila, as we are wont to do, but to sip them, in an appropriately slow and stately fashion, in harmony with the food.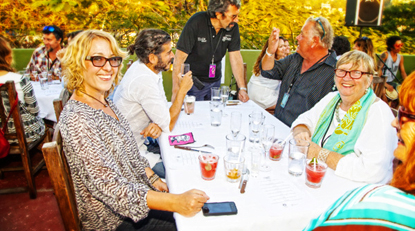 We did our best not to slam it down. The tequilas were magnificent, crystalline and refreshing on the blanco, or fresh, end of tequila town, mellowing down slowly through reposada land, the land of lighter brown, slightly oaky flavor, eventually landing in the ancient land of anejo, where old man tequila sits in his chair and sips, doesn't shoot fast, takes it slow and easy, like a philosopher of the vintage. We tried to take it slow, and some of us succeeded, but the tequila all tasted great, and so we wanted more…and so perhaps we knocked a few back faster than we should have.
We have learned our blanco-reposada-anejo lesson, and now we know. I know I like the blanco, or silver, the fresh young stuff. But those among you with more refined, whisky-saturated taste buds might like it slower and darker. Anejo. In between, reposada. That's the idea. Find what you like, and learn to love it. Tequila manifests its charms in many forms, and this week, thanks to the Festival Sayulita, we have all learned to admire, appreciate, and understand them. To drink them down via Festival Sayulita!!!