1/3

Bird's eye view of boutique hotel Playa Escondida

http://www.sayulitabeach.com/site/wp-content/plugins/slideshow-gallery/vendors/timthumb.php?src=wp-content/uploads/slideshow-gallery/playaescondida-1_mini.jpg&w=600&h=337&q=100&a=t

2/3

Horses on the beach on beautiful Playa Escondida

http://www.sayulitabeach.com/site/wp-content/plugins/slideshow-gallery/vendors/timthumb.php?src=wp-content/uploads/slideshow-gallery/playaescondida-2_mini.jpg&w=600&h=337&q=100&a=t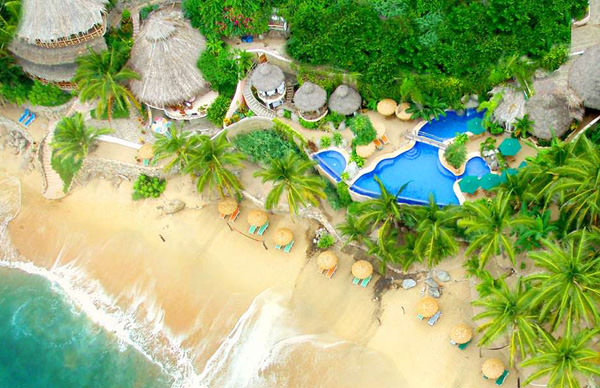 Secluded Beach
Playa Escondida, or lost beach, is where we are, and what we are. The beach is big enough to spread out, to take a walk, to enjoy the sand, sea, and rocks, but intimate and secluded, and almost never visited by anyone but our few hotel guests.
This hidden beach, a few coves south of Sayulita, is one of the secret gems of the Nayarit coast, and home to the exquisite, nature-inspired organic wonderland that is the Hotel Playa Escondida. A hotel without signage, without a map, one that has grown intuitively on its lush, beachfront site, Playa Escondida is a retreat even from the low-keyed "busyness" of Sayulita. Every guestroom is unique. The hotel spa offers a range of massages and treatments, the restaurant features an inspired, international and Mexican gourmet menu, and you can do internet (if you must) in the open air bar, where they often show movies at night.
Favorites

Playa Escondida

Romantic, organic, secluded; gourmet food; gorgeous, isolated beachfront location; lovely pool and spa, great yoga program; unique, individually-designed rooms; peace and quiet just five minutes from town.