Exactly half of Mexico's six-person national surfing team, currently down south for the World Surfing Games taking place May 4th-12th in Panama, comes from Sayulita. This is par for the course. When it comes to surfing and stand-up paddleboarding, there is no other town or place in Mexico that approaches Sayulita in terms of producing champions. Puerto Escondido might have bigger and more challenging waves, and many of the breaks along the Baja California coast and down in Southern Mexico are superior to Sayulita's, but no matter. Surfing has been a part of Sayulita culture for a couple of decades now, and over the course of those years, our town has evolved into Mexico's own surf city.
Except that it is not a city but a small town that just happens to produce a lot of great surfers. Sayulita's waves are usually not so big, but they are, as has been evident this week, challenging, fun, and…right here! In our front yard, as it were. As is evident in the photos here, all shot in the last few days while the competitors go at in down in Panama, our town waves, the rights out front and the lefts a little ways up the beach, are not spectacular by any stretch, but they are almost always out there, big or small, good or bad. One theory holds that constantly surfing in…um, shall we say, average (by world class standards) surf actually makes one a better surfer, because if you can surf well in not such good waves, then when you get to the really good waves, your game naturally improves with the quality of the waves.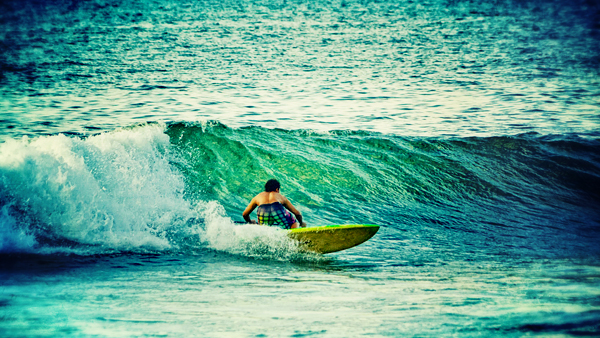 This kind of makes sense, but no matter. What matters is that three Sayulita surfers—Dylan Southworth, Adrian Rodriguez, and Leila Takeda, along with Southworth's mother Patricia Southworth, (longtime operator of Patricia's beachfront surf school, board rental, and fishing boat charter service) as coach, are headed to Santa Catalina, a small town on the Pacific coast of Panama, where a consistent right hand reef break that works best on a big south swell (like the ones that come around, late spring and summer, in Sayulita) may create some epic conditions for the International Surfing Association-sponsored contest.
What got these three onto the team was placing in the top Four in the Mexican National Finals. Dylan won the national championship and Adrian placed fourth on the men's side, while Leila won the women's national championship.
Surfers are coming from 25 or so states and countries all over the world, hoping to take the team title from the Aussies, who won it last time. It should be a great show, and here's hoping the Sayulita crew shreds it.
This needs to be noted: as much as we admire these world-class local surfers and their powerful and stylish wave-riding, there are those among them who have at times been way too aggressive and territorial here in Sayulita's surfing waves. We all know who they are, and how they treat people in the water. Rudely would be stating it mildly.
Hopefully in future these would-be champions will prove to be worthy representatives of the sport and of our town on the world surfing scene. They've definitely got the talent, and we hope that those among them who need to learn their manners do so, and also learn to be a little more patient and generous with those less talented in the waves. Maybe I'm wrong, but it seems to me one needs social skills, both in and out of the water, as well as surfing skills, to step up onto surfing's world stage.
Meanwhile, let's hope our local surfos shred some Panama barrels, and win one for Surf City Sayulita, and for Mexico!!