Ever since we moved to Sayulita five years ago, I've been looking at Monkey Mountain, but somehow, until now, I never got around to actually climbing to the top. I didn't know the right guides, or had better things to do—like surfing—or I just got lazy. But making that climb has always been on my Sayulita list; and now I've done it. In case you don't know, Monkey Mountain is the largest of the hills to the south of Sayulita, with a fairly steep, sheer cliff face on one side of the summit.
In the company of guide Steven Pomeroy, who runs the local hiking business called Mexitreks (find them at mexitreks.com), I "summited" Monkey Mountain on December 10th. Along with us were my friend and neighbor Courtney Richardson, and two others, friends of Steve's from San Pancho. Both, like me, surfers with no waves to ride of late, and so—we found this to do instead. Climb Monkey Mountain. I'm not sure I would do this climb, or any climb for that matter, on a day when there are good waves, but it is a great little half-day hike, and one that I would recommend to anyone who's interested in getting out of town and seeing the countryside. It isn't super-strenuous, but you do need to be in shape. There's some huffing and puffing along the way, but only a little. Steve supplied us with walking sticks, and we used them. He also supplied us all with an organic tick repellant he recommended, and we all used it. We all brought water and trail snacks.
In climbing this mountain, you not only get immersed in the jungle and forest enroute–when you reach the top you'll find absolutely stunning views of the Nayarit countryside and the Pacific Ocean in all directions. The summit of Monkey Mountain is probably the best viewpoint in the region: since its so close to the ocean, you see miles of coastline in both directions as well as the valleys and mountains that define the geography of this part of Nayarit. The views from the top are simply spectacular.
We recently wrote up a hike near Patzcuaro Beach that we did with Chilly Willy, one of our local environmental vigilantes and also a great guide for area hikes. The hike to the top of Monkey Mountain follows the same route, to a point: we drove down to the first ranchos on the road to Patzcuaro, and there crossed the river and followed a stream bed towards the hills. Soon we reached the rock we showed you a few weeks ago, with petroglyphs carved into the surfaces of several sides.
From there, we continued up the stream bed, which was dry at that level, but soon, as we began ascending, we found the stream still flowing. We continued our ascent past an open air rancho, where a chicken stood on a guitar that lay on a bed under the roof of a bedroom without walls. An odd sight indeed. Shortly thereafter the climb got steeper, and steeper, and pretty soon we were using ropes Steve had left on previous hikes to help people get up particularly steep, slippery spots. Most of the time, we were in the shade, so it wasn't too hot. We saw lots of large,colorful spiders, a beautiful green praying mantis, some big white semi-feral cows, a couple of snakes, and plenty of birds and butterflies. We did not see the jaguar that Steve claims lives up there—Steve has seen a cow with its throat torn open by what was obviously a large predator, so he does not doubt that this rumored jaguar is more than rumor.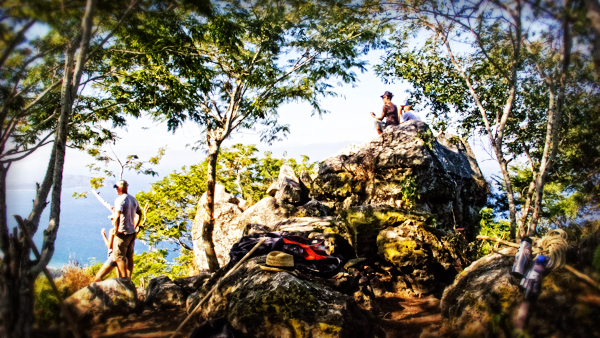 And then, an hour and a half or so after walking away from the car, we reached the top, where we took a break, took in the breathtaking views in all directions, and then broke out the hang gliders and leapt off the mountain. No, not really. We simply relaxed and admired the views, took our pictures, spotted a whale spume or two at sea, and picked out a few landmarks towards Punta Mita, Higuera Blanca, and Sayulita. The views were awesome. Even from way up there, we could see that there was little or no swell coming into Bahia Banderas or even along the open ocean shores of Litibu, stretched out below us towards Punta Mita. To the north we could see the hills of Sayulita hugging the shore. To the east rose the soft green hills of inland Nayarit. This is a beautiful country we live in, and seeing it all from above was a real thrill. After an hour enjoying the summit, we took another hour to hike down.
Now as for the monkeys of Monkey mountain, or Cerro de Mono, as it reads in translation. According to Chilly Willy, once upon a time monkeys lived up there, but they were hunted out. Hence the name. According to Steve, there have never been monkeys up there. The name, Cerro de Mono comes from the small clay figurines, or monos, that the indigenous peoples used to leave all over that mountain, looking out over the sea and the land. Monos, they were called. The Spanish use the word Mono for monkey, but in Mexico monkeys are changos. So, lost in translation.
I always thought the name came about because the profile of the mountain top bears a certain resemblance to the profile of a mountain gorilla, a King Kong kind of look. But no matter. I think Steve's got it right, but I hope Chilly's got it right as well. As you climb that mountain, it feels like there ought to be monkeys swinging through the trees. The vines, the jungle, the whole vibe of the place calls for monkeys. Meanwhile, with or without monkeys, Monkey Mountain is a fine hill to climb.