For connoisseurs of tacos, you can't beat Sayulita. Between the carts, the stands, the restaurants, the bars, and the rest of the taco purveyors you'll find all over town, you can eat a great version of just about any kind of taco you want, from shrimp to calves' brains to pure unadulterated vegan. So, what we are going to do here with our new, ongoing Tacos in Paradise blog is throw a few suggestions your way.
Before going any further, it should be said that…not every taco joint in Sayulita, be it mobile, semi-permanent, or permanent, could be described as subscribing to the highest North American standards for restaurant cleanliness, for worker cleanliness, and for general all-around sanitary practice. There are some less-than-spotless hands handling some of the less-than-sterilized food in some of these places. There are definitely bugs in the area. The workers do not wear surgical masks as is the style these days in some American restaurants. And, of course, not all of the vegetables have been washed in purified water.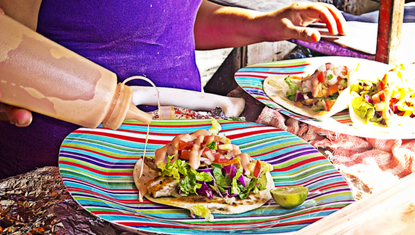 That said, in five years of eating every kind of taco all over town, I have never gotten sick, and I have plenty of friends who could say the same. On the other hand, people do get sick from eating…tacos? Mystery meat? Drinking the wrong water? Too much hot sauce? That's the strange character of Montezuma's Revenge: sometimes you know exactly where and when you got it, and sometimes you haven't a clue. Just consider it a miserable crash diet. You can lose weight fast.
But forget about the downside, let's look at the upside, at Sayulita's finest taco joints. We'll start with The Real Fish Taco, a little restaurant run out of a couple of mobile carts on the north side of the closed-to-traffic street, Delfines, between the beach and the plaza. This place is owned and operated by Laura, who used to have Laura's Restaurant up the block, and so has several years' experience making great Mexican food in Sayulita. She and her ultra-friendly crew make really, really great fish and shrimp tacos, either on the grill (a la plancha), or deep fried. Great fresh shrimp and fish, fresh vegetables, fine hot sauces, and a few bar-top tables scattered under umbrellas. Super casual, super good, and priced at about 25 pesos apiece. That's around two bucks and change, and two of them will fill you up. You can't miss this place, it's at the foot of the main drag between beach and plaza, and there are always at least a few people there, savoring the fine fare. While in town, this is one low-budget dining pleasure you'll not want to miss.