Along with movies, tequila, and music, the Festival Sayulita and the Sayulita Surf Club managed to stage a wonderfully entertaining surfing contest on Saturday, right in the midst of all the Festival Sayulita activities. And this was no dog eat dog event, with all our local shredders attacking the waves. No, this was a super-mellow, super-fun kind of contest, dreamed up by the surf club guys, with a whole different format than the usual contest.
Thanks to Israel and all the other hombres and chicas who dreamed up this event and put it together. As one of the older gringos who signed up and rode my wave, I can attest from personal experience as to what a gas it was.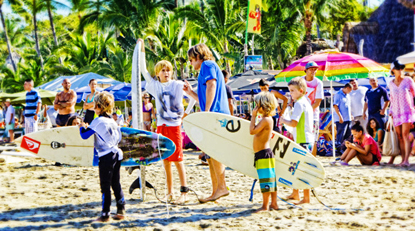 The event was set up like this: the 64 entrants, men and women and boys and girls of all ages, were divided randomly, via a lottery, into teams of 4. Each of the teams then had to assign a member of their team to one of 4 kinds of boards—shortboard, longboard, paddleboard, softtop board. Then, 4 teams at a time competed for 30 minutes—but each team member got to ride only one wave, then tag the next member of his team, who was riding a different kind of board. Once the 4 guys or girls on the 4 types of boards had each ridden a wave in the heat, they could go through the cycle again. A total of five waves out of however many were caught by each team were then judged.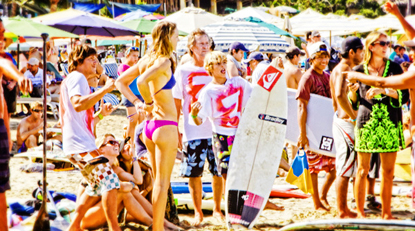 It was loads of fun, mildly competitive, and very entertaining if slightly confusing for competitors and audience alike. Thanks to Rogelio Ramos and the judges and the organizers for their good work, thanks to Darrin, Felipe, and Marco for being my team mates, and thanks especially to the sea gods for sending us a good six hour stretch of fun, small to medium-sized waves for the contest. This is the first surfing contest in a while here in Sayulita that actually had some decent surf, so we have to believe the surfing gods and some good karma was with us.
The photos tell the story: good beach day, good waves, loads of fun. A classic Sayulita day, wrapped up in a surfing contest and Festival Sayulita!